WKQX has decided to once again "fix" its morning show. Q101.1 announced today that it was ending "The Morning Fix" and firing the two remaining on-air members of the show. The Chicago Tribune's Phil Rosenthal broke
the story this morning
and WKQX
issued a statement
about the change later.
While I was not a huge fan of "The Morning Fix," this announcement is a somewhat sad one. Not surprising, by any means, but still a shame it happened.
Even before "The Morning Fix" happened, it looked
great
on paper. It was the funny, intelligent antithesis to Mancow's low-class show, which aired in the same time slot previously. It was meant to be the radio equivalent to the hugely successful Comedy Central TV program, "The Daily Show," with Alan Cox slotted into the Jon Stewart role, and with a large cast of genuinely funny writers & performers surrounding him. It was meant to be a fun & funny news radio show -- like WBBM-AM on laughing gas.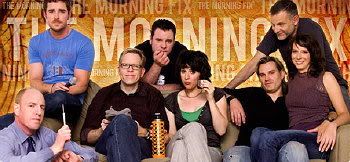 This was more than just a new idea and more than just a Chicago radio show. The eyes & ears of radio programmers nationwide were closely watching the show with the hopes of copying it in their market. This was to be the new morning show success story that "Morning Zoos" were many years ago. Before the first show even aired, there were whispers of syndication in the Indianapolis halls of Emmis Broadcasting.
Emmis created a clever website & marketing campaigns called "What's Wrong With Chicago Radio" and "What's Wrong With Chicago" that just made the expectations even higher. There was an excitement & buzz in the air about a new, unknown show that hadn't been felt in very, very long time. It was an exciting time during a hot August & September in 2006.
That was all before the show first aired on September 18, 2006. Things quickly changed after it aired. The hopes & promises of the pre-show hype couldn't live up to the reality of the show. The show was too tightly-formated. It repeated the same bits & jokes every 1.5 hours. The worst problem was that despite having a very talented roster of funny people, it just wasn't funny
enough
. Many listeners checked out the show early on, but quickly went back to their more familiar morning listening habits. The radio programmers from around the nation that were hoping to copy the new show, instead shrugged their shoulders and went back their boring old morning programs. Nobody at Emmis as whispering "syndication" anymore. They were just wondering what went wrong with their once-proud experiment.
The show went unnamed for a while, but then settled on the unlikable name of "The Morning Fix." Maybe it was a coffee reference, maybe it was a drug reference, maybe they were just hoping & praying that these new radio employees could fix Q101's ratings woes. They even got
The Price Is Right
's Bob Barker to allow his image to be used in a poor marketing campaign, reminding listeners to "Get Fixed." It was a badly-thought-out advertising attempt to breathe life into a badly named & executed show.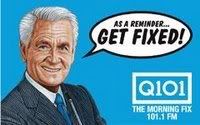 Instead of making a few slight changes to change & improve the show, WKQX did nothing, hoping that the listeners' perception of the show would magically change & improve instead. That didn't happen, of course. After just over one year, on November 9th, 2007, WKQX decided to make a major change, removing the entire staff from behind the microphones, except Alan Cox & Jim Lyman. They continued to call the show "The Morning Fix" but instead of non-stop jokes & bits, added a few music breaks to each hour. That experiment failed, too. Listeners left the first version of the show, not because of a lack of music, but because of a lack of funny entertainment. By removing even
more
entertainment and replacing it with over-played songs, it doomed the show even more. Just shy of 2 years after it started, "The Morning Fix" was officially done on August 1st, 2008.
It is being replaced by one of the cast-offs from Version 1 of "The Morning Fix," Steve Tingle (a white man, whose gimmick on The Fix was talking like a stereotypical black woman) and his partner from the afternoon show he has worked on since leaving mornings, Brian Sherman. To their credit, these two did a lot right in the afternoons that Cox's show did wrong in the mornings. They were looser, less scripted, funnier and promoted themselves better. It's not a shock that they were given the morning slot, replacing their friends. They have a shot of gaining back some listeners lost by Mancow's firing and The Fix's mistakes.
A lot of good people were hired for The Morning Fix. A lot of good people from that show are now out of work. The bigger shame, though, is that the show
should
have worked. With just a few tweaks, it
could
have worked. Unfortunately, it didn't work on Q101 in the fall of 2006 through the spring of 2008. It only worked on paper in the summer of 2006. That's simply not how radio is supposed to work.