Presenting the 2nd Annual Larzie Awards for 2008!
That's right Ladies & Gentlemen! The long wait is over and it is now time for the 2nd annual Larzie Awards! Yet another bogus award that nobody was really waiting for! Once again, it's time to look over the year just past and announce my picks for the best in Music, Radio, TV, Print Media and more!
Just as I did last year, I want to again say that I would never be so pretentious to say that my picks are "the best" of any given subject. When/if I use words like "best" in my picks, what I'm really saying is "best -- according to my tastes" or simply what happened to rock my world in the past year. I listen to a lot of radio, a lot of music, see a lot of TV and read a lot of print media. I openly admit that I do not see or hear it all, though, nor would I want to at this point in my life. So, based on my experiences only, here on this blog site, over the course of the next few blog postings, are my picks for the Larzie Awards for 2008! I also want to remind you that wagering on the Larzie Awards is illegal outside of the State of Nevada.
Larzie Awards outline:
(Six posts in total)
1. Introduction (aka this very post)
2. Music of 2008
3. Local Radio winners
4. Local TV winners
5. Local Print Media winners
6. Local Media-Themed Website winners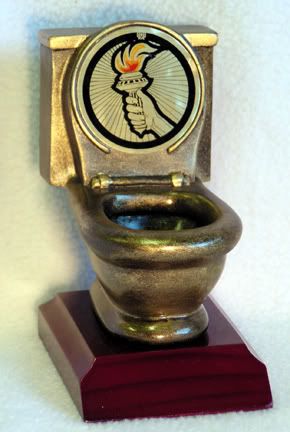 The coveted "Larzie" Award!


(Note: Larzie Award may appear larger in photo. Actual size may vary.)