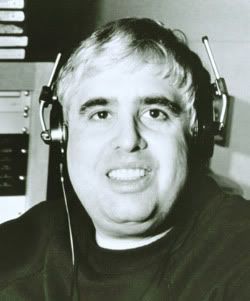 Chicago radio legend, Eddie Schwartz passed away last night. He was 3 months shy of his 63rd birthday.
Perhaps best known as the long-time overnight voice of WGN-AM, "Chicago Ed" entertained thousands of 3rd shifters, night owls & insomniacs, gaining possibly the largest following of any overnight host in this town's history. Prior to his WGN years, he also worked nights at WIND-AM. For a few years after WGN, he worked at WLUP-AM & FM. It was his years as the overnight king on WGN that he will best be remembered for, and rightfully so.
It is often joked about with radio personalities that they have "faces for radio," meaning that they may not have the prettiest of looks, but they have the vocal talent needed. Eddie may have had the proverbial "face for radio," but he also didn't exactly have the stereotypical voice for radio. He was higher pitched than most radio pitchmen. He breathed heavy. He had a unique laugh. He was not typical in any way. That wasn't a detriment for Mr. Schwartz, though. It became part of his charm. This was not an authoritative voice coming from the radio speakers. This was not a deep, unattainable voice. This was the voice of an everyman. This was the voice of a friend. This was the voice of caring.
When speaking of Ed Schwartz,
caring
is a key word that will always come up. He cared... a lot. He cared about radio. He cared about his listeners. He cared about people. He cared about total strangers. This was a caring man. If a caller had a problem, he cared. If a news story mentioned somebody in distress, he cared. If a charity needed some help, he cared.
Upon finding out that Chicago's shelters and food pantries were low on food & funds, once again, he cared. He cared so much that he got together with the Chicago Anti-Hunger Federation and started up the Good Neighbor Food Drive. This annual event would have Eddie staying outdoors on cold December days & nights, raising money, canned food & awareness for Chicago's hungry. It was run by Eddie and teams of volunteers each winter. Special guests from local politicians to national celebrities would stop by or call him in the dead of night to offer their support and gratitude for his efforts. Each year, he raised between $100,000 and $200,000 and mountains of food for those in need. This special radiothon was done years before radiothons became more common in radio. Nowadays, almost every radio station does some sort of charity-driven marathon, and while the end results are positive ones, the reasons behind them have more to do with tax write-offs & public relations. When Eddie did his Food Drives, there were no ulterior motives. There was only caring.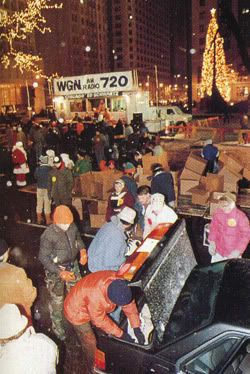 Not only did he raise money for charities, he would always allow charities to talk about their needs on his shows. If that wasn't enough, he consistently gave his own money to needy charities. If he heard on his show about a foundation in need, he would quietly write them a check, right then & there. If he read a sad story about somebody down on their luck, he would send them an anonymous check. There are stories of him paying rent for total strangers in need or buying clothes for the children of a single mother having difficulties making ends meet. He didn't do this because he wished for notoriety. He did this because he cared.
As was commonplace for a period of time in the later 80's & early 90's, younger radio personalities would make fun of the older personalities. The younger listeners loved the "us vs. them" mentality of it. Eddie was often made fun of and was an easy target by the radio young guns. His unique style made for mocking imitations. However, this was not just anybody they were making fun of... this was somebody special; somebody unique; somebody willing both confront the mocker and laugh along with the person. Steve Dahl, who early in his career here, built upon his popularity by making fun of the "old-timers" like Wally Phillips & Eddie Schwartz, would get called by Eddie and confronted right on the air. Those calls not only made for great radio, it eventually made for great admiration. Steve Dahl went from mocking Eddie, to genuinely caring about the man. A few years ago, Dahl released a CD of many of those Eddie radio moments and donated all of the proceeds to help pay for Eddie's medical needs at that time. It just went show how rare of a human being this Ed Schwartz was. Even those who tried to dislike him, could not help but care for this caring man.
In the mid-90s, Eddie left radio... or rather... radio left him. He has been missed ever since. He kept busy, writing for the Lerner newspapers and his own blog, but it wasn't the same for him, as Eddie missed the interaction with fans. A return to radio in some capacity became a near impossibility when his health deteriorated in the 90's and then went from bad-to-worse in the 00's. For the last few years, his many physical problems -- kidney failure, a collapsed lung, diabetes, heart ailments, blood ailments, bouts of pneumonia, and so on -- kept the man away from his downtown apartment overlooking the lake and had him in hospitals & rehabilitation centers in the northern suburbs. His body may have failed him, but his mind stayed sharp. He still very much cared for local media and kept a close eye (and/or ear) on it.
His failing health left him a thin man, but he will always be remembered & pictured in the minds of those thinking of him, in his large body. Eddie's large body was not due to eating habits, genetics, illness or obesity. It was there to house the gentleman's large, caring heart.
If there is a heaven, "The Wiffenpoof Song" was loudly playing there late last night, entertaining all.
Rest in peace, Kiddo. Your caring ways will be missed.